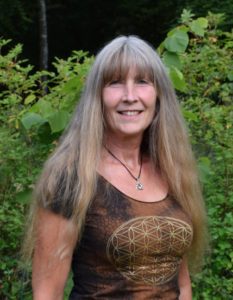 Body without age. Mind without time. Soul without limits.
I am founder of Omahara – Heaven on Earth and love to provide ceremonies with focus on the individuals inner journey. I function as a life-coach on behalf of a highly expansive spectrum of learning throughout life. Com-in-unity ! I use meditation techniques built upon the basic principles of sacred geometry of the Flower of Life as a Holomatrix of Love creating powerful grids maintaining the light-body field and souls constant evolution with protection, love and higher consciousness in all its authenticity through a short daily activation/focused meditation supporting all that you are, do, wish for and share in this lifetime. It is indeed a journey of self-realization, alchemy and magic.
I am founder, sound coach and distributor of Living LOVE Technology providing Scalar IQube Technologies – 250 years before its time providing a high speed elevator to reach your highest instead of taking the stairs, BUT includes the self-realization along. This technology use positive frequencies activating noble gasses, gold/silver, oxygen and flower essences creating healing sounds capable of healing anything thinkable and unthinkable as well as gradually building quantum fields of infinite possibilities, where not only a perfect health, focus, and happiness for no reason are experienced on daily basis, but also out-of-body experience with grounding, spiritual journeys and spontaneous healing with self-realization. This technology are mentioned in numerous of texts as for example the books of Celestial Prophesy. It is built on the principles of Nikola Tesla and brought to a much higher level with Star Tetrahedron Technology like the Tesla IQube extending around the planet hitting its own energy field in just 3 days and energetically comparable to 100000 monks meditating on unconditional love. Can you image living with such a device running 24/7 as it is indented? This IQube regenerate the grids of love consciousness within the earth as well as clearing karma by reaching the 8th sphere of Cosmos. The IQubes also transform all liquid and solid foods into 99,9% light within 1/2 hour and regenerate the crystal grids within Mother Earth. A true healer for the healers and much more.
This technology can create a set of soul tones for you by using a simple voice sample from you saying BAY BEE BYE BO BOO HAY HEE HYE HO HOO for 20 seconds showing your condition physically, emotionally, mentally, spiritually and even future potentials. When you listen to your 24 minutes of personal soul tones each day that will automatically heal you on all levels with high speed. This is further recommended to be encoded into Sacred Scalar Water for you to drink too on a daily basis, indeed increasing your healing. And you can do it all while you do other things. Listen and drink in between. Or even run your soul tones silently on repeat over night – frequencies out through the speakers – and just drink your water throughout your day as usually. Only your fantasy make limits with the potential of this technology.
I am a founder of  Savannahs Treat - B&B Healthy with higher consciousness living and learning, where I welcome you into the Scalar Wave Quantum Field on another timeline of love and joy. Savannahs Treat provide the space for many spiritual events, ceremonies, art and courses with teachings during the year.
Beside all that I am deeply into Astrology, also called original astrology and write numerous of birth charts as personal Life Manuals and can by request from smaller groups create spiritual journeys to Damanhur, Egypt and Canada – authentic and humanitarian. I am the founding member of "Happy Children" – a humanitarian help organization supporting an orphanage in Cairo, Egypt.
With determined knowledge of my purpose in this life, I am happy to be source employed serving humanity to lift themselves above their fate and liberate their soul by teaching the knowledge of their blueprint, nature, spirit and emotions, in which I am specially skilled.
I am from 1966, mother, and have an extreme background of life challenges blessed with multiple hard-learned lessons brought forth by own creation, as pushed along by the Allies, amongst ones such as Tibetan Lamas and their wisdom from the East to the initiation of Alton Kamadon from the South (Founder of the Melchizedek Method), as well as North American Natives in the North to Robert Zoller, Medieval Astrology in the West.
I am deeply grateful for each learning experience that have helped me to be my authentic self, living my purpose fully, be a conscious timeline-jumper, remote-viewer, shape-shifter, master alchemist and magician, and carry the ray of joy for all who wish to cross my path.
My personal CV today is: INNER JOURNEY IS THE MOST IMPORTANT
My observations and gifts for you is:
First, we strive to be enlightened and believe it will bring us happiness. When we are wiser, we know first of all that we do not know, and suddenly everything that we do not know become just joy.
Know that you know nothing until you know what you do not know.
With knowledge comes often status and titles, but oh yes, it is truly just more responsibility. It is only our vibration that separates us. Knowledge is power and your true protection.
It is not enough to walk your talk – you must live it – authentically!
You must feel the fear but do it anyway!
You must lead as a good example at all times!
Do what you want, but harm none!
You were born different, to make a difference!
You must be in this world but not of it!
Be down to earth and become spiritual! Be grounded and reach heaven!
Get an empty mind and know everything!
Detach from everything and now be abundant!
You have to be heaven yourself, to create it!
Living your best life ever is a choice you make. I took this choice without compromise, and share with gratitude whatever is needed for you if you so choose as well.
Welcome to Omahara - Heaven on Earth
Savannah
About Omahara
Omahara is
Heaven on Earth
, the new reality.
Omahara teaches you
the truth behind the illusion
being awakened from within you!
All secrets revealed. All loose ends in the questions in life connected, making sense.
Who are you? Why are you? What is your Divine Plan?
Omahara shows you the way and provides you with all the tools to walk this directly to the enlightened state of being, by staying in your own light and power.
These teachings are for all despite the background, age, gender, mood, religion or previously attained knowledge or meditation technique.
Omahara is
Om - the universal sound of all of creation, maha - means great, hara - the center of being-ness.
Omahara is an aumni-dimensional being, common voice, and vibration of all the great master energies from the higher dimensions,
such as Melchizedek, Thoth/Enoch, Christ, Metatron, Buddha, Elohim and God.
The wisdom is delivered in the perfect frequency to awake and activate your DNA and you to your highest divine potential.
As above, so below. As within, so without. 
If you want to see anything change, you have to change from within.
Higher consciousness has to be experienced to be understood!
To experience God, you have to be God. To create Heaven, you have to be Heaven!
PS. Enlightenment means in-light-meant-for-me!