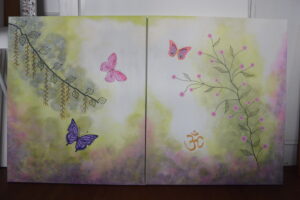 Graceful Harmonic Peace - 60x50 - Acrylic - SOLD
Soul paintings for married couple with their desire of colors corresponding to a background on a business card, suitable for an empty wall in their living room, where for years they have been looking for the right one without success. The paintings are based on their numerology, separately as well as together - they are number 3 together, so there are 3 butterflies (transformation) to support them in the pursuit of their dreams together as a couple. They both have a birthdays on the 24th, which is why there are 24 flowers .... and 12 (half of 24 and depicting our 12 signs and houses in the zodiac, which creates wholeness) represented on both paintings in the form of leaves, etc., which together gives 24, but 12 are also 3 that hold them together. In addition, there are 7 gold rankings representing healing through the chakra system. And the AUM of creation was also their wish. These can be hung together or separately, but recommended side by side.
It was exciting when the couple picked up their pictures, which they had not seen at all in the process. They were both highly satisfied, and immediately asked for another picture for another empty wall in their home. It was really uplifting to experience their terrific joy over the result when I knew they were both 6s and thus had high ideals/visions of the perfect paintings. It could be perceived as limiting to paint people's wishes, but I find it extra creative to create based on specific options - be it size, colors, shapes, animals, plants, geometries, etc. - whatever fits people's own created interiors. We all know the phenomenon of wanting something specific a particular place, and the years go by without finding the right thing. It is an exciting framework to create within.